Jesse Wofford, Director of Product Marketing, Discord
Jesse Wofford has served as Director of Product Marketing for Communities and Creators at Discord since early 2020. He has helped launch some of the first community-focused products, including Conferences, AutoMod, and Forums recently. Prior to joining Discord, Jesse was an early member of the Snapchat product marketing team and helped launch new monetization features.
Can you introduce discord with a few numbers? What are the advantages and peculiarities of the platform compared to other instant messaging services?
Discord was created in 2015 and today we have over 150 million monthly active users worldwide, with 80% of our users between the ages of 13 and 24. Internationally, approximately 8 out of 10 users are located outside the US and we support more than 30 languages ​​on our platform.
While gaming is our largest community in which we find our roots, we have seen the emergence of non-gaming communities on our platform, such as animation, art, education, fashion/beauty, fitness/health, music and news, or even science/technology.
In France, several societies have been established in the last year. According to Statista, Discord was the fifth most popular messaging app in France in the third quarter of 2021. However, we don't see ourselves as just a messaging service: our goal is to build communities and empower people to create a sense of belonging in their lives.
Discord was designed differently from the start to be an intimate online space where people can easily talk to each other and spend quality time with their communities and friends they care about.
There are three things that set Discord apart from most other online services:
Communities organized by invitation only: Users can create spaces that can only be accessed by inviting their communities and friends,
Audio-Text-Video: Users can switch between text, audio and video, thus surrounding themselves with friends by calling at any time.
Rules and Standards: Communities of different sizes can set their own rules/standards as well as Discord's Community Guidelines.
How do we explain the particular enthusiasm for the application in France? What is the goal of Discord on French soil?
We saw an increase in Discord use in France when we introduced French language support on desktop, mobile and web in July 2018. During the pandemic, some trends have accelerated, and as we spend less time in front of our computers after Covid-19, actions such as video chatting or Spending time on Discord is now rooted in habits.
The diversity, participation, and societal interest of our French users has increased exponentially in recent years.
In addition, Discord has an awareness of 83% among 15-24 year olds in France (source: Discord Brand Perception Study, July 2022), which is why our activities in France aim to get closer to Generation Z, and to reach them where they gather.
How do the French use the app? What topics and interests are most represented on the platform?
Today France is one of our largest markets in Europe, as well as one of our most important markets in the world. Although gaming is our largest community and in which we find our origins, 67% of French servers fall into categories not related to video games.
Besides the wide range of French communities of various sizes that thrive in Discord, France is a key market for the company with French usage above the global average in the key trends identified (source: Internal data discord, July 2022):
Fast response connection: A larger percentage of users access Discord through a mobile device.
Various interests: A higher percentage of active users across six or more servers.
larger communities: A higher percentage of servers with 30 or more members.
Larger non-gaming communities: Higher share of servers with 200 or more members in non-gaming categories.
You recently launched your first brand campaign in France (outside the US). What are the objectives of this communication?
We launched our first brand campaign outside the US in France, highlighting the importance of the French market and celebrating the wide range of French communities on the platform.
Go Discord is an integrated brand campaign, showing how our French users have found a sense of belonging in some of the largest French communities on Discord today.
The campaign invites more French people to join Discord to "relax, chat and participate" in fun and exciting conversations in these communities. With colorful images and a playful tone, avatars of various shapes and sizes highlight the diversity of France's Discord users.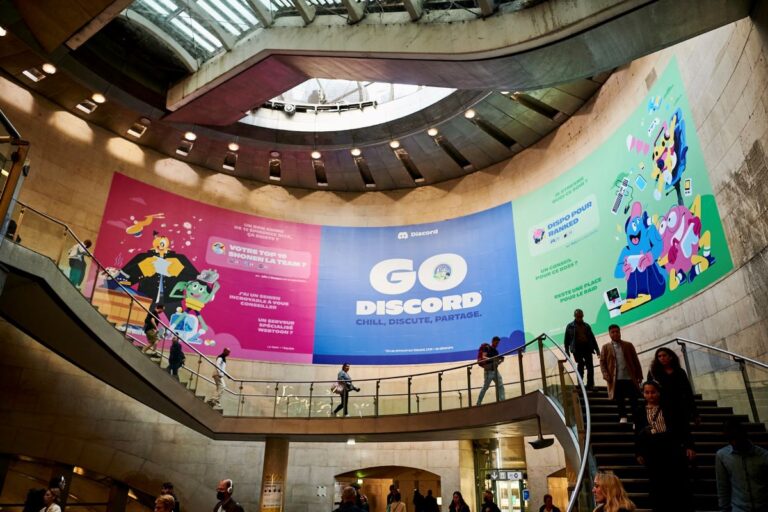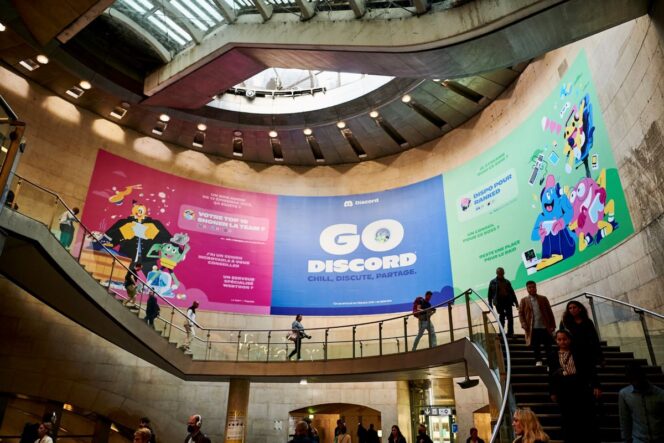 The campaign will raise awareness of the Discord brand in the country's capital and in many cities with a high student population – starting with billboards in the Paris metro, followed by outdoor advertising on trams in Marseille, Lille, Nantes and Bordeaux. In addition to these five cities, the creative concept will appear in digital, social and television spots to reach national audiences over the coming months.
Apart from users, do companies and brands also have opportunities to seize Discord? Are all sectors of activity involved?
We have seen many brands eager to create a space to centralize their community, and reach the Generation Z audience on Discord.
What makes Discord attractive is that it differs from other services: there are no likes, and no real way to make things go viral. Instead, we provide a place where users can be themselves by creating a community of like-minded people.
Depending on the goals and types of experiences that brands want to create for their audience, Discord can be used to create connections between intimate and niche communities or, conversely, more popular ones.
What tips and best practices can you give a brand that wants to get started in Discord?
Before launching a Discord server, it is important that you know the brands and understand the purpose of having them on our service. One of the main messages we convey is that brands need to communicate with their customers in a way that is reliable for them.
Creating a community is a lot different than organizing a campaign – a community is an enduring space where fans, customers, and users can come together around common interests, and of course interact with the brand itself.
The brands that succeed in Discord are those that reflect on their approach and show a deep commitment to their community, not to mention that they are a long-term success.
These also have a clear goal (to attract users), and serve the needs of their community with structured and regularly updated content plans. They also invest in the right resources to support moderators and community leaders for their Discord servers. In addition, brands also appreciate the importance of promoting the server to their audience, spreading awareness of the community and the content they have invested in and supporting the growth of members on the server.
What are Discord's future projects in France? Are new features planned?
Our ultimate goal is to make Discord a place where users can develop a sense of belonging by communicating about shared interests or passions. To achieve this, we must continue to expand the diversity of types of communities on Discord and create spaces where everyone can be part of a group.
We will strive to continue making our product, the desktop and mobile version, more accessible to the general public. We also want to make community management on Discord easier for users, provide them with the resources to learn how to manage and moderate communities, while supporting users who want to start their own community.
After the brand campaign, Discord will continue to reach out to different audiences in France. For example, the company plans to participate in Games Week in Paris for the first time and launch a campaign to encourage college students across the country to join their campus student center on Discord. It will also be an opportunity to introduce new features!
#explain #platforms #success #France