It's Friday and it's the third day of the Reeperbahn festival in Hamburg! The concert begins in the early afternoon with a focus on Swiss artists on the Spielbude XL Theatre.
She is the songwriter Anna Erhard Who opens this day with his band with popular echoes. The Swiss living in Berlin create a calm and detached atmosphere with the slightly soothing sounds of electric guitars. Her charismatic voice is sometimes remembered by Courtney Barnett, basing on lazy instruments like Mac DeMarco. His compositions weren't lacking in charm and managed to get us moving very early in the day, with these roving synth pads as in a very good title. abbreviation. An excellent find from the first concert, it's a day that starts off well.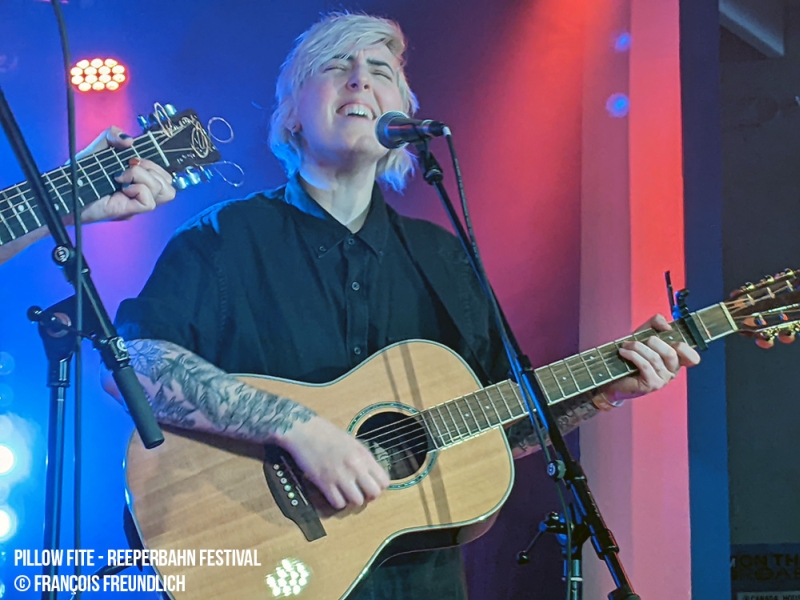 It's again to tour the Canada House to catch a glimpse of the queer folk concert pillow fit. The Halifax duo explain that they are more nervous about this party than the hurricane that was hitting the coast of Canada at the same time. Or not last, because the two guitarists complement each other perfectly by dispersing the atmosphere of a cocoon where everyone is in a soft cabin adorned with fluffy ears. Raw people and skinned as we like them, carried by the voice of Art Ross, always on the edge of fragility. Singing is sometimes supplemented by Aaron Green's choirs, then the harmonies become magical for this group formed during confinement. That's a good little pillow punch in the face!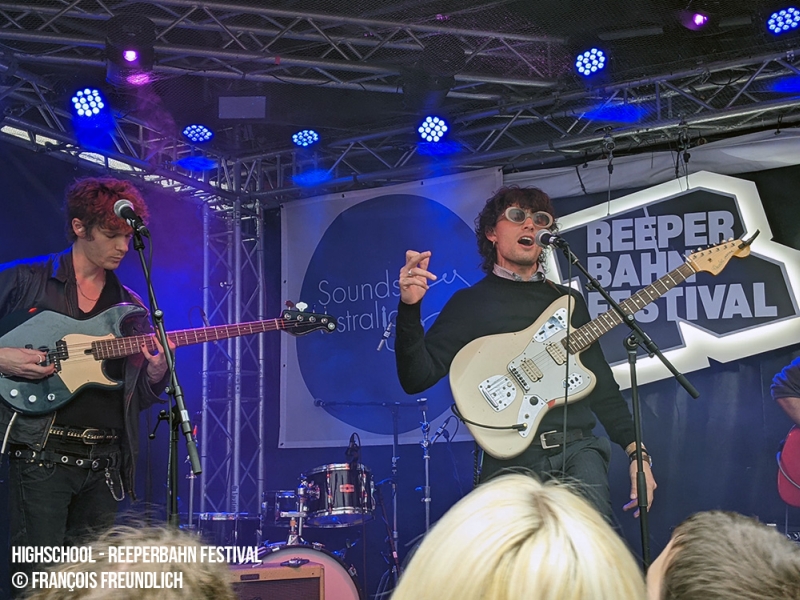 The afternoon continues at the Molotow Backyard with the Anglo-Australians High school And their cool waves with psychedelic pop accents. Good yet punk bass reverberates on the back of the slightly softer pop electric guitar strings and other variable-energy synthetic pads for a genre like this. The singer with Robert Smith's deep voice lends more depth to the tracks, which remain more positive, something that rarely happens in this musical style. However, we stay in fairly linear compositions without much surprise even if we had a very good time.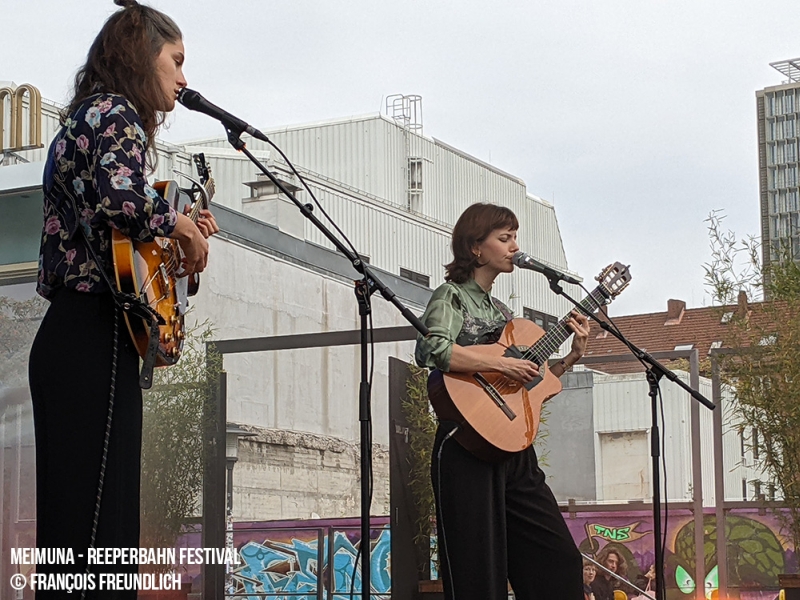 Back on the Swiss scene to see an artist singing in French, in person auspicious. With her acoustic guitar, Cyril Formaz fascinates us with her soft voice, infused by the electric guitarist who accompanies her. I finally asked if anyone understood her words and it was more time than ever for her to let out a wild but nonetheless understandable cry. His sweet and sour folk poems evoke obvious emotion, even if the outside stage is clearly too big for this very intimate music. Anyway, we managed to get his strong texts into the very sweet title Devil's sadness. Some shyness and weakness contrast with the narratives in which a people inhabit radiant melodies. She was simply beautiful.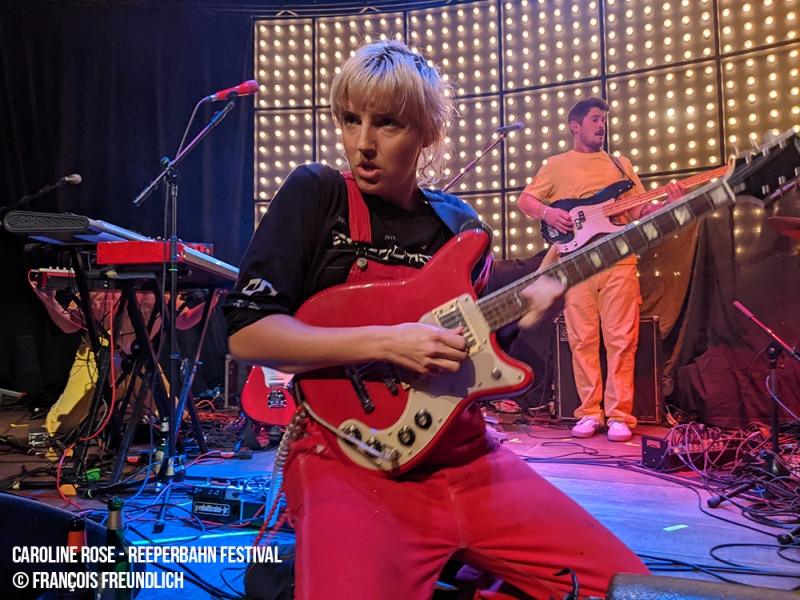 We reward ourselves with a well-deserved break before we depart for the evening which will begin in the Mojo Club, an underground room with all-circular shapes. It's the New Yorker Caroline Rose Which encouraged us to go down these underground stairs for a concert that promises to be Dantesque. Before we start, we see her panicked as in her famous video I feel the way I want Where she realized it was in Hollywood, California instead of Hollywood, Florida. The same panic can be read upon realizing that its formula is not working. Everything is finally settled and we're seeing a totally crazy show with the singer in pink suits. Caroline Rose runs all over the place and doesn't hesitate to get on her knees as beer is poured over her face and in her eyes… before she realizes it might be painful.
Caroline Rose is unparalleled in thrilling audiences with her synthetic indie pop that connects tube after tube with folk rock influences. All eyes are on her and this showgirl is so adorable that we must love her music. And we love her anyway. The titles are finally quite quiet, compared to the crazy energy Americans use. However, she won't forget to drown us out some of the excitement we feel on the electric guitar. This is an amazing and unique performance that we will never forget!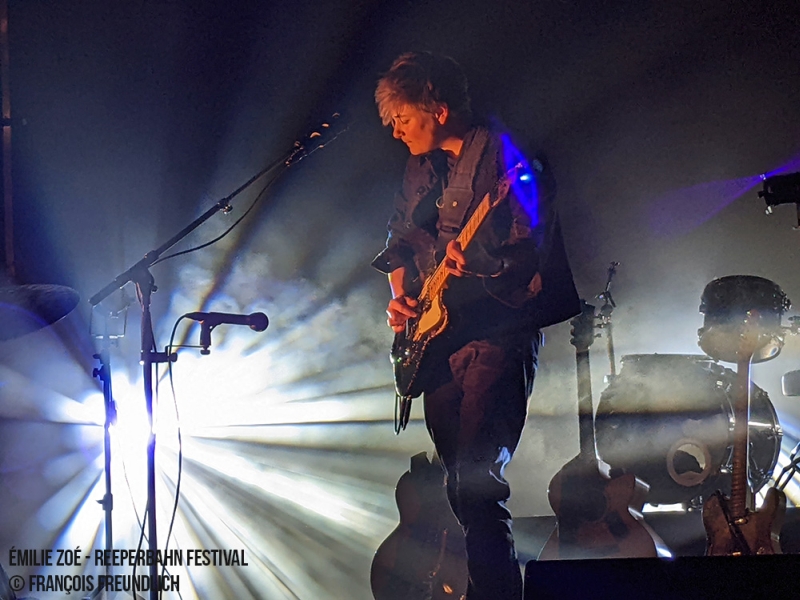 Back at the Spielbude XL in the heart of the Reeperbahn for the concert of one of our favorite artists: Emily Zoe ! The musician is surrounded by powerful lights that will give a very special power to this show that will set fire to the Hamburg night. Based on explosions of electric guitars, Emily Zoe revisits the best tracks from her first two records, especially tiger song, with this escalation of insane intensity and its explosions in the loops of guitars. We can't help but repeat the texts in an angry and charming voice. Body vibrates on the dark and brilliant four notes of the title volcano And her wonderful flights on "I'm a Woman" – "I'm Not a Woman", taken from the last album. Accompanied by a drummer who does not hesitate to hit the pieces with a rattling rhythm. The quieter and melancholy lanes take on another dimension living with a very rocky group, with steep countryside and lightning saturation. Emilie Zoé's concert is always an intense experience because of its strength, emotion, and subtlety. He is easily listed as one of the best rock artists we've seen.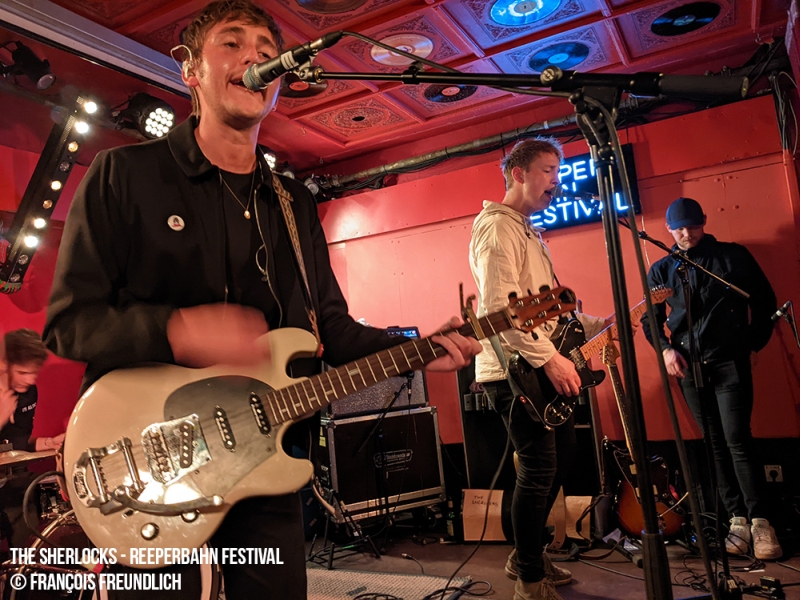 Return to the Molotow Club to switch from Swiss-Rock to Brit-Rock! We are the sound of violence after all. Sherlocks They are already on stage to ignite the festival with their super hit guitar songs and their "wooh oooh" labels for British songs of the 90s. The Sheffield quartet is more of a 'good boys' style with their pretty faces if we are to compare them to their fellow Arctic Monkeys. The four boys know what works and do well, and are more inclined towards hits reminiscent of Franz Ferdinand or Blore. A certain urgency emerges from their existing compositions to make people dance in the bays. Positive, easy-to-sing melodies that connect directly to the audience: This is a good "no-nonsense" recipe applied by The Sherlocks. The night can begin.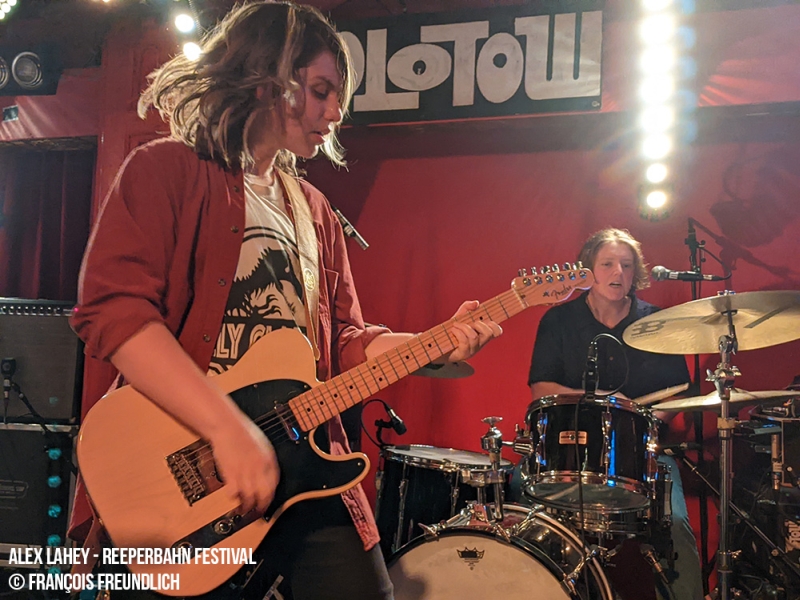 We continue in the same club with the Australian Alex Lahi and his group. The first thing that comes out of this party is the joy of life and the positive side that emerges. The singer and guitarist plays catchy punk pop songs with accelerated acoustic flow. We discover the influence of punk on the wheels of the '90s that clearly touch a teen's heart. We obviously think of Weezer in those catchy guitar tunes from a Jurassic Park half-shirt, half Kelly Clarkson punk-pop girl that makes you want to move your pelvis. Even if we're in the pop spirit, Alex Lahey retains a dose of alternative in the occasional raspy voice that gives center stage to the saturated countryside. Cheerful concert as we like it.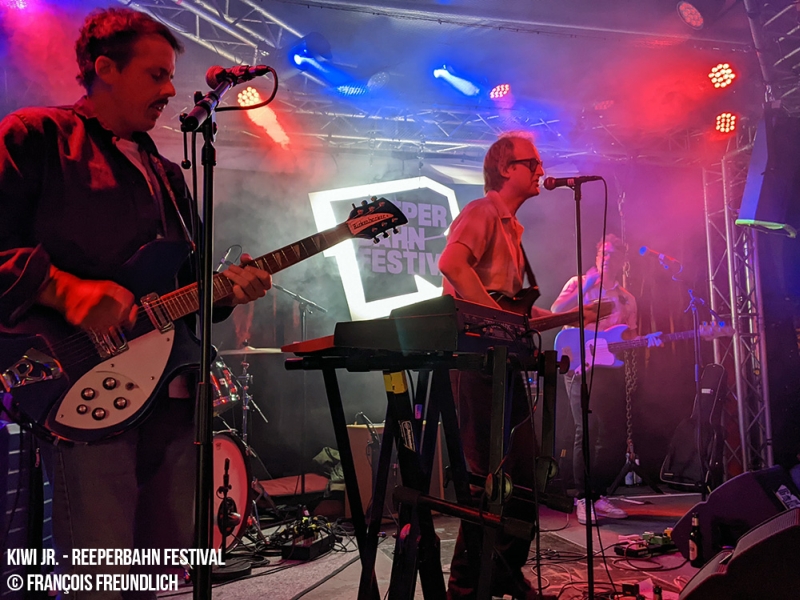 Molotow's evening attraction played in the garden part: It's the New Zealanders kiwi junior And their sunny independent pop is studded with quiet songs. We've already been listening to their albums on repeat and the Toronto quartet doesn't disappoint with their freshness-attended adaptations at every beginning of the song. It is a pleasure to hear delicate compositions with wonderful melodies with clear songs like waiting in line Making the front row dance like never before. Singer Jeremy Judd's treble and his warm, gentle voice add a touch of sophistication to this group, drawing their influences and energy from the best of English and American rock, from The Smiths to The Strokes. It appears that Kiwi Jr. Gray-streaked Hamburg summer comes out since today, with electric guitars light, intoxicating, and sweet. Kiwi yes.
To end the evening at the club, other Canadians take a stand: the electric duo Blue Hawaii Which arrives shortly after cancellation. They settle in hastily before they begin a show that is somewhat disjointed but has the advantage of doing a molotto at the start of the night. DJ unleashes his cool catchy tunes while singer Ra, with incredible energy, paints her light and icy voice. An electronic cocktail to jump right in, that's just what we needed to end the evening, the group feel free to remix some '90s eurodance songs to perfect the mix. The dance of the night was in the Reeperbahn.
Here's the third day full of surprises with a huge variety of concerts between the madness of Caroline Rose, the enthusiasm of Emily Zoe and the class of Kiwi Jr. Excellent ad!

#Live #Report #Reeperbahn #Festival #Hamburg #09.23.2022