Young flautist Max Volbers has been awarded the prestigious Deutscher Musikwettbewerb 2021 award. As part of the exemplary support that this institution provides to young artists, he is releasing a "Fireworks" disc that explores all the possibilities of this tool. Answers questions from Crescendo magazine.
You are the winner of the Deutscher Musikwettbewerb Prize 2021. What does this award mean to you?
In fact, there are many things: since Frans Bruggen – that is, for a long time – we have talked about the fact that the recorder has "arrived" in concert life, that it is taken very seriously, that it is much more than a children's instrument. The fact that we always have to repeat it like a prayer wheel, even after countless concerts, CD recordings, and television appearances by many notable players of different generations, shows that we still have a long way to go. In this regard, it is as if the recorder has also won this competition. In fact, the peculiarity of the competition is that since the third round, all specialized juries come together to form a grand jury. So the final match will be played in front of 30 jurors who all come from very different musical directions and instruments. So I was able to impress completely different musicians with my instruments and stock, most of whom don't know the recorder. It really is an amazing feeling.
The great thing about this award is that it comes with such a good follower, one of them is being moderated and supported extensively for several years and in the end the CD recording is part of the award.
This is your first registration. How did you design the program and choose the business?
At first, you really sit in front of a blank sheet of paper and start collecting ideas. I quickly knew I wanted to focus on the different arrangements and explore new work on my first CD. As soon as that became clear, I immediately knew exactly which piece I wanted to score, which is Concerto Pastique From the Bach I played for the first time during my graduation. I thought of the different paths to the new directory I wanted to take, namely: pastique (As I said, I already knew this), paraphrase, contrast, reduce (a certain technique of decoration that appeared in the seventeenth century), paraphrase of another instrument, commissioning a new piece. I put together a long list of tracks that I thought might fit, which eventually became the nine tracks we recorded together. I felt it was also important to give an example of actual transcription from the 18th century, which is after, after by Charles Dubart. Originally written file six wingss for harpsichord, but were also published at the same time (possibly for commercial reasons and perhaps without Dieupart's knowledge and consent) for recorder and/or continuous violin and bass. By the way, Deobart's music greatly influenced Johann Sebastian Bach. We know that he copied the sequences and combined some of them in his book english wings. In the end, I had a huge list of songs that could have been recorded on four or five CDs – a lot of music. The final choice was very difficult. It was important to me that despite all the stylistic differences between the pieces, the result was a program that made sense. Almost like a story that would be coherent in itself.
It seems to me that the program of this album is a real artistic fireworks, a kind of "visiting card" to all the possibilities of your musical instrument. Does this impression fit with the spirit of this recording?
Yes really. In fact, the recorder is not a single instrument, but part of a large family of instruments, as can be seen especially in the consort pieces. One of its great strengths is the sheer richness of chromatic colors it offers. This results not only from the fact that the recorder exists in the most diverse of shapes and sizes, but also from the different uses with which it is made – as a soloist in a concerto, where he can be great, in a consort, where he must coordinate acoustically with other instruments, as a music partner roommate. I wanted to capture the many different aspects of this chromatic kaleidoscope for my first CD – without the program looking arbitrary, which was too challenging. You're right: in the end it should also be a "business card". Not only for me, but also for my wonderful machines.
Your album title is "Whispers of Tradition". You have to keep in mind this notion of tradition that is a little abused in our time. In fact, we are talking more about "reinvention" and "modernization" than about tradition. How do you know the tradition? Is tradition for you something positive in nature?
This is a very good question! I believe that tradition is neither a good nor a bad thing in and of itself, nor a value in and of itself. The question is: Is there anything alive behind it? Tradition – not only musical tradition – lives on understanding, on the fact that we impart on it, search for and find its value for us in the present. Once we are content with copying and imitation without understanding, imitation becomes a dead coincidence—and thus worthless, useless. Moreover, in musical terms, tradition and reinvention do not necessarily conflict, as CD software is supposed to appear … Some parts of CD are new innovations, but created in the spirit of different musical practices of the past.
In this program there is also a contemporary piece by composer Thanos Sakelaridis. Why this contemporary contrast to this Baroque business program? Can you tell us about this result?
The recorder fell into hibernation at the end of the 18th century and did not "wake up" until the 20th century. Thanks to instrumentalists such as Frans Brüggen, many composers have become interested in this baroque instrument over the years, and more and more modern records have been developed, but not only for contemporary music. So our repertoire is in ancient music and also in contemporary music. I really wanted to incorporate this aspect and include a recent piece as a counterpoint to the programme. widget Please enter the subway It was written by Thanos Sakilaridis, a young composer from Thessaloniki whom Elizabeth Wirth and I met in Berlin at the Academy der Konste. He found Paetzold's recorders, very funny square shaped instruments in the low register, very exciting and started writing a piece for us in 2018. For three years we met over and over in different places, also once in Greece, and worked on playing together. Over and over we tried sounds, we developed ideas, and we were kind of like a music box for Thanos, who explained to us the sounds he imagined and we tried to find them or made suggestions ourselves. I think it's very special to be able to influence the creation of a piece myself. And this is precisely the element of communication with the other parts of the CD, because in the end the program focuses on the question: what can I add to the composition as an instrumentalist?
How did you choose the musicians who accompanied you on this album?
They are all close musical friends that I have known for a long time and work with them regularly. It's funny that they didn't know each other before we got together for the recording, but I was 100% sure that the group would work. Especially for the recording, I think it's important that it also works on a human level with all of them – and we did that. I recently looked at pictures taken while filming – we really laughed a lot!
Max Volbers website: https://maxvolbers.de/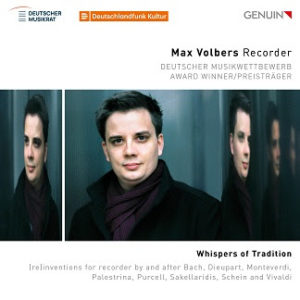 Whispers of tradition.Work by: Johann Sebastian Bach, (after) Claudio Monteverdi, Giovanni Pierluigi da Palestrina, Thanos Sacillarides, Henry Purcell, Charles Dupart, Giovanni Pierluigi da Palestrina, Johann Hermann Schein, Antonio Vivaldi. 1 original CD.
Image credits: Theresa Bewal

#Max #Volbers #talented #recorder