Kontakt is more than just a virtual sampling tool. And even the richer platform in terms of virtual instruments, to the point where we can talk about a standard like when Akai was outperforming the world in S-series sampling. Major publishers: Spitfire, Output, Audiobro, Cinesamples, Heavyocity, Soundiron, 8dio, Audio Modeling, Big Fish Audio, Cinematique Instruments, Orange Tree Samples, Sample Logic, Impact Soundworks, ProjectSAM, Sonuscore, Vir2, Strezov, e-Instruminy, Prominy, Best Service, Zero-G, Soniccouture, Sonokinetic, Orchestral Tools, Embertone, Efimov… and that's not to mention About hundreds of smaller editors doing exciting work (Modwheel, Loopsdelacreme, etc.) or enthusiasts showing off their creations for free!
Suddenly, after four years of waiting for a new version of the Commander to arrive, we can't wait to see what the Native has in store for us, especially as the V6 shows its age, both from a comfortable standpoint as well as from that of its bank, which it actually inherited from the V5… Come on, let's install !
Joe from Komplete Kontrol…
The installation passed, so we hurried to get the new Kontakt 7 to see if, like the Guitar Rig 6, it's a graphical overhaul topic we've been waiting for a good ten years. The opening of the tool announces the color: we find ourselves facing a browser whose aesthetics and ergonomics occupy the canons of Komplete Kontrol: at the top we have filters by organic family (wind, strings, keyboards, etc.) or by nature (audio, analog, digital, etc.) and engine A search in which the list of respective banks is displayed below on the left, represented by small thumbnails, and on the right is a list of available presets. Window size can be changed: This is a good thing, even if it has no effect on the size of the fonts used.
As in Komplete Kontrol we also have a preview of the sounds: good thing even if we lose the organization by the tree structure, which makes the use of some tools impractical because everything is sorted alphabetically and not by relevance, with the obligation to use a dropdown for filtering … in short , the new system has advantages, but by abandoning any tree structure compared to the old system, you will have to take your directions, knowing that the basic, is expected in the program itself and not in the navigation.
So we click on one of the presets when, suddenly, suddenly, without warning …
Are you sure it's Kontakt 7?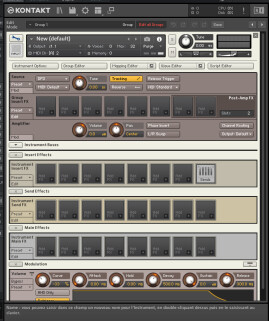 … We end with the Kontakt 6 interface: the same thing, with the same small texts, the same icons, the same impossibility of resizing the interface! Clicking on the program preferences access icon spoils all hope on the typeface side, while clicking on the adjustable wrench allowing access to advanced editing convinces us of this: apart from the navigation overlay we were presented with in the first place, which brings nothing more From Komplete Kontrol, no graphical fix has been made.
And even if the publisher announced the software's compatibility with Retina displays (ten years after the technology was launched by Apple, it's about time), we can't believe how little work has been done in four years!
We were already expecting a redesign similar to the one made on the Guitar Rig, new lines and a small menu to specify the size in percentages, but nothing! So what justifies switching to V7? From the publisher's point of view, the new features are Elastique integration in V3, a pitch shifting and time stretching algorithm produced by zplane and licensed from Native Instruments, and the integration of two new effects: Breath Delay and Ring Modulator. And that's it.
There, she panicked at the tester wondering what he would be able to talk about to finish the test. Fortunately, the program is surrounded by a new sound bank! Phew!
Our bank owes us accounts…
This bank is also promising because it is almost twice the size of the Kontakt 6: 40 GB! It promises a lot of new things to go in and out as well as new tools introduced in the new Komplete.
Apparently there are a lot of people out there, realizing that what is presented to us is based on redesigns of the old, additions and disappearances. Get out of the Viennese patches of orchestral instruments, knowing that it's the orchestral instruments that take over… If it seems like some things haven't changed (guitars, for example), we're also seeing a number of new synth patches as well as instruments from all over the world. All over the world…here! Violin too! I like ! Why don't you start with that?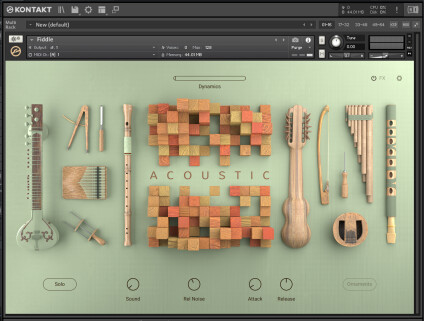 A double click and sound finds himself in front of a beautiful interface that offers a full range of instruments…but not the violin in question! It occupies three-quarters of the window, which cannot be resized, so this image has no other purpose than to be aesthetic anyway: nothing interactive and the rudimentary controls of the widget are at the bottom of the screen, while in the upper right corner we access the Effects panel and the Effects panel. control. And what is the value of this violin? Not so much unfortunately if you want to produce a solid violin part, since we only have one level velocity and strong bending effect on velocity while there is no round robin nor any expression…
Well, we fell really hard. So we'll open up other instruments and realize that all instruments are built on the same paradigm: a big visual that changes by the instrumental "group" (synth, "band" that roughly combines jazz/rock/pop, percussion, orchestral, etc.), With above the customization of the mod wheel, below the controls that will likely vary according to the patch, and access to the Effects section as well as the composition in the upper right corner.
In terms of effects, we have the basic arsenal (EQ, Tape, Delay, Chorus, Phaser, Cabinet, Convolution, Limiter, but without distortion), but in the end we will find the most interesting things in the configuration: managing tuning and switching such as pitch, velocity, or range, but above all something that brings random variations in size, speed, panning or pitch… Therefore, any sample is likely to become interesting, as long as you want to have something realistic… Note that on Drums, you generally have a reader MIDI style…
In short, we're having a small game series with one engine and no mods, knowing that if the overall visuals are somewhat nice if not appropriate (showing Rhodes when you click on a piece of Rhodes doesn't seem to work on its own here…), there A number of contrast issues that affect the readability of interfaces:
Good, good…but the sounds are there?
K7 . sound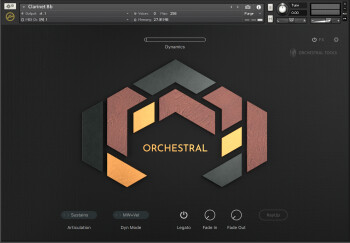 As in any large group, here we find the good, the lesser and frankly dispensable. Among the good things we will note a number of tuning corrections and above all some beautiful electric keyboards: Rhodes with a lot of dynamics and a very pleasant sound when it fluctuates at high speeds …
On the orchestral side, let's say the orchestra's instruments didn't impose their talent on strings which aren't necessarily better than the old Viennese, but woodwinds work very well, with the possibility of transitioning between two pitches for speed thanks to the modulation wheel. The legato is based on a fading basis with the possibility of adjusting the attack and release…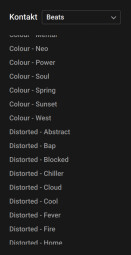 The brass is true even if the high speed was a bit violent compared to the bass and suddenly we quickly found ourselves in Ride of the Valkyries mode. Guitars look the same as before, but in a new interface, such as piano, bass and drums. We also have a lot of things in terms of synthesis…
Through all of this, we also realize that there is a filler: drum kits rejected by dozens through a phaser, with chorus, with distortion. All this is of little importance, except for those who do not know how to make an impact in their digital audio work platform or in Kontakt …
In short, here are examples worth worth, knowing that the wizards in the original tools demo will undoubtedly find a way to make it look better than me:
12 o'clock
01:11
Before we get done with the bank, let's specify that although it has doubled in size, Native has not yet found the opportunity to get a banjo machine into it. Let's make it clear: I'm not obsessed with banjo, but it's one way to point out that despite 40 gigabytes of sound, Kontakt Bank still isn't able to produce the equivalent of each of the 127 instruments of the general MIDI standard…Moreover, Note that cooperation with Orchestra Tools does not give us access to the solo violin, nor to the violin and cello or the double bass which is only available in the sections …
However, let's face it: Kontakt's basic audio bank hasn't been a problem at all, especially since you can find much better stuff than what's offered for free on the web. No, the challenge lies in the sampling and programming engine as well as in the user interface, three areas where we have to admit that this version 7 doesn't bring much…
contact loss
It's hard to deduce God and especially noticing this long-awaited 7th release that suddenly disappoints with its lack of ambition (no graphical fix) and finish (user interfaces for new tools that pose reading problems) as well as little sophistication for its engine. why ? Because if we take into account the actual contributions of this update, it is probably not more than two stars out of five.
But if we consider Kontakt in absolute terms, there is no doubt that it is a platform that is unparalleled in terms of market impact, hence its good evaluation that judges the product as a whole and not the only update: if you work with Virtual Tools other than Synths, this is a A must give you access to treasures, whether paid or free. It is impossible to do without it, especially when making orchestral or vocal music, the largest publishers of this genre have not managed to free themselves from the Native Instruments platform.
However, the issue of buying Kontakt alone is not very relevant if you think that for 200 euros more you can get access to Komplete 14 which offers a lot of excellent, both on banks and effects, but also on synths, and the above all give you access To another exceptional ecosystem: Reaktor.
Since there is no doubt that over the course of updates, some banks from Native as well as third-party editors will refuse to work under Kontakt 6 which will not be maintained anymore anyway. So we have to go…
#Native #Instruments #Kontakt #review #Tears