At 67, Kamal Badaro is still brimming with inexhaustible blues energy.
The multi-instrumental blues player performs at Quadrangle, a cozy bar in Hazmieh, south of Beirut, at least once a week, occasionally switching between guitar, piano and vocals during the same piece. Even when customers turn up just to sip drinks at the bar, Kamal Badaro manages to get them involved. With his encouragement, everyone at one time or another dances in his groups, singing songs like Whiskey Drinking Woman, by saxophonist Lou Donaldson, which elicits some laughs due to the playful tone he adopts as he performs.
Kamal Badaro and Quadrangle are prime witnesses to the once thriving blues music scene in Lebanon, where the economic crisis has pushed music into the background of people's daily lives, even among musicians. For this blues fanatic and many other fanatics on the scene, a passion for the blues goes back to the time of the civil war – another difficult period in Lebanon's history – during which many of them spent years abroad. In 1993, shortly after the end of the war, a group of musicians and amateurs began meeting in Hazmieh, at the home of Pierre Issa, a friend of Kamal Badaro who was also passionate about the blues.
Although blues music is not native to Lebanon, this musical style has found many Lebanese fans. For some, this music expresses tragedies on an individual level as well as on a national level.
Kamal Badaro became acquainted with music at the age of five, according to the desire of his parents. His mother played guitar and first did his scales on piano at the conservatory where he also acquired some concepts of musical theory. After six years of training, he trained on the drums. As with any budding drummer, this new instrument quickly became a nightmare for the neighbors.
In 1975, after the outbreak of the civil war, Kamal Badaro went to Paris to study economics. At that time, many Lebanese emigrated to escape the war. Like many other expats, it was a personal trauma that led to his departure. "After this tragedy, blues has become my therapy, it's sad music," he says.
Unable to take the piano or drums with him to France, he took his mother's classic guitar and began to learn the strings.
He became addicted to blues music after his friend, Salim Haddad, who he calls his "musical mentor," sent him the song Slow Blues written by the Allman Brothers. "She had something that really excited me, and since then I've asked my friend to send me all the songs he knows of this genre," recalls the person who presents himself not as a musician, but as a blues fan.
At the time, blues and blues-influenced rock musicians such as BB King, Eric Clapton, Carlos Santana, and Howlin Wolfe were playing in Paris where Kamal Badaro could see them all in concert.
Kamal Badaro singing on September 26, 2022 at the Quadrangle Bar in Hazmieh, south of Beirut. Credit João Sousa / "L'Orient Today"
A link between generations
Pierre Issa returned to Lebanon in 1981 after studying abroad in Austin, Texas. Already a fan of blues music before moving to the United States, living in Austin gave him "the opportunity to see and hear all the masters of blues, jazz and rock, including BB King, Albert King, Albert Collins, John Lee Hooker and Muddy Waters" says Stevie Ray Vaughan. On his return to Lebanon, he transformed his parents' house in Hazmieh into a private blues bar, and organized meetings every Monday. Members, initially three people, soon numbered dozens.
Several current blues players in Lebanon also made their debut at Pierre Issa's house. "There were 50 to 60 people, some of them were playing and most were just listening. Sometimes strangers would come to this house either to play or to help, and Pierre Issa would introduce himself and invite them to it," recalls Kamal Badaro.
After that, Issa and Badaro met Tony Rizkallah, owner of the band Quadrangle, who became the guitarist of the group called Monday Blues Band. Pierre Issa claims that even today he still plays his band Sweet Ride once a week at this house and other clubs from time to time.
The Monday Blues band, whose current members are Kamal Badaro, Tony Rizkallah, Issa Kreeb on saxophone (and columnist for Lorient-Le Jour, editor's note), Fouad Gharib on vocals and ukulele, and Ghassan Saqr on drums, began playing The Quadrangle in 1999 The band—which at the time included Isa, Rizkallah and Badaro—was playing at the Quadrangle every Monday, true to its name. "If I had to travel, I made sure I would come back on Monday," says Kamal Badaro.
He says he started playing the bass because he wanted to be in a band and no one wanted to be a bass player. He says he is content to be in the back and enjoy the show.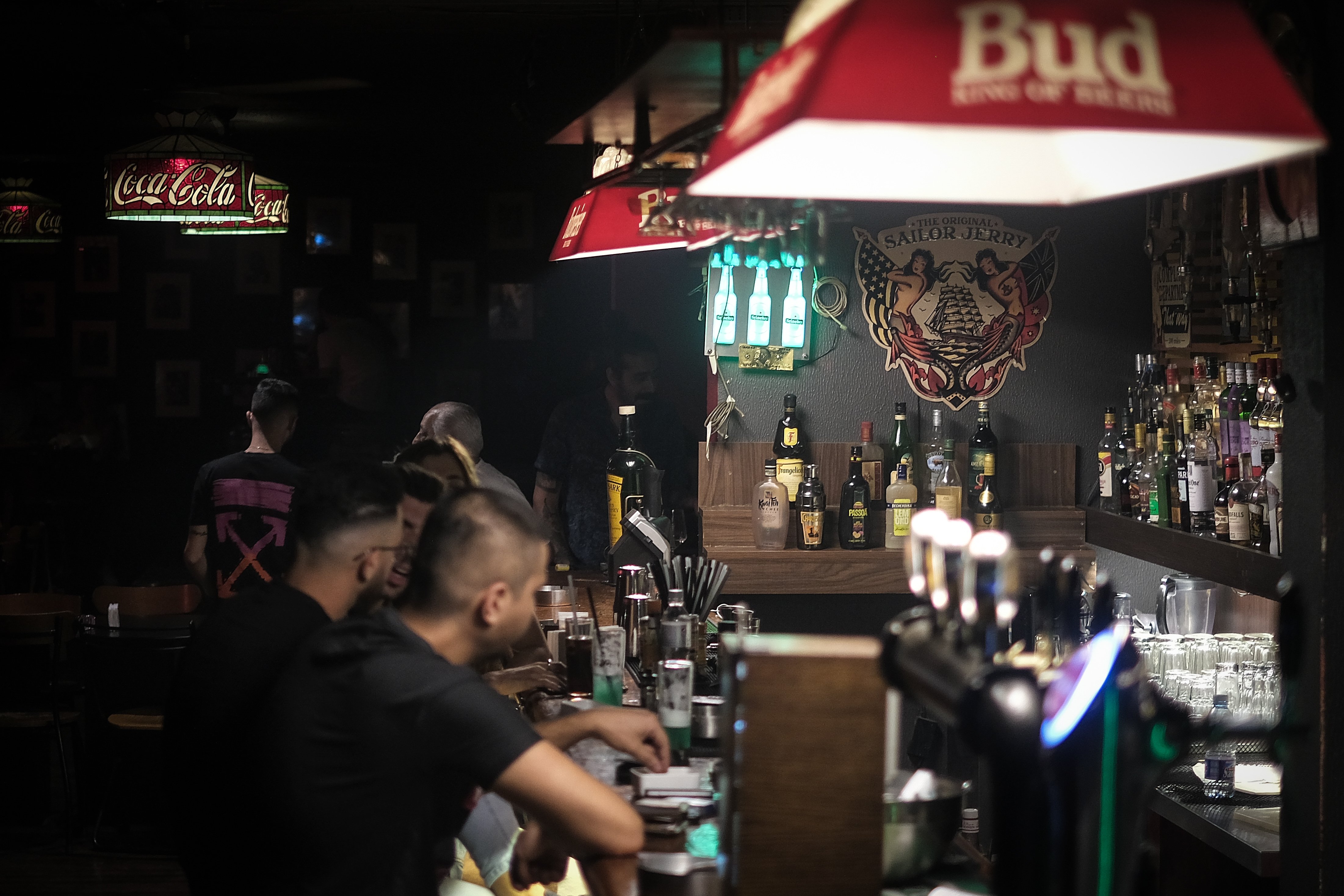 Quadrangle bar in Hazmieh, south of Beirut, September 26, 2022 (João Sousa / L'Orient Today)
"I think the guitarist has to come to terms with the fact that he's not the most vocal member of the band. He has to know how to give; that's why most bass players are sound engineers who care more about sound quality," he says. Sharing the stage with so many talented musicians is like A godsend, these moments are priceless. Tony Rizkallah adds: "The most important thing is to be able to have a pleasant evening and convey how you feel to the audience, and they will give you back that energy, and that going and going is limitless."
Some blues party fans are old fans of Kemal Badaro's generation, but the Quadrangle and the blues band he plays with every week have also been a gateway for youngsters who come to play pool and darts, and end up discovering a passion for music that is generally more popular among their parents' generation.
"Before going to Quadrangle, I would only play blues if I played poker, but I started going there every Monday, and I met Kamal Badaro and Pierre Issa there," says Noor Atwi, 27. I loved the fact that seniors are still very passionate about their music. The musicians were all randomly invited to the stage, and the band's interaction with the audience, and their musical improvisation every time they played made me fall in love with the genre. »
The young man, who is also a guitarist, said that the first time he sang on stage was when Kamal Badaro invited him to play guitar solo during one of their shows. "Playing on the stage is unique, whether there are 20 or 100 people. This first experience is really priceless: the excitement I felt, the fact that I was giving people feelings and giving back to them. I didn't really want to end this performance," says the musician.
Ramy Khoury, a 21-year-old oud player who is watching for the first time the Quad House Band, to which Kamal Badaro belongs, said he was particularly drawn to Badaro's performance. "The blues, more than any other musical genre, expresses a lot of emotion and perfection is an excellent example of that," says the young man.
Kamal Badaro, for his part, reveals that he comes for the pleasure of playing and for the audience, not for the salary. "I've never made a profit from music and I think that's a very important point because we didn't have to compromise our standards, and it shows in our performance," he said. I need crowd energy. If the audience is not happy, it will definitely affect me, and vice versa as well. »
Part of the multi-instrumentalist's passion for blues comes from the genre's inherent spontaneity. "If someone plays classical music, they know what they're going to play. What's so special about blues is that it's about feelings and there's also a lot of improvisation, so the performance is different every day, which also makes you prone to mistakes. It's a risky business."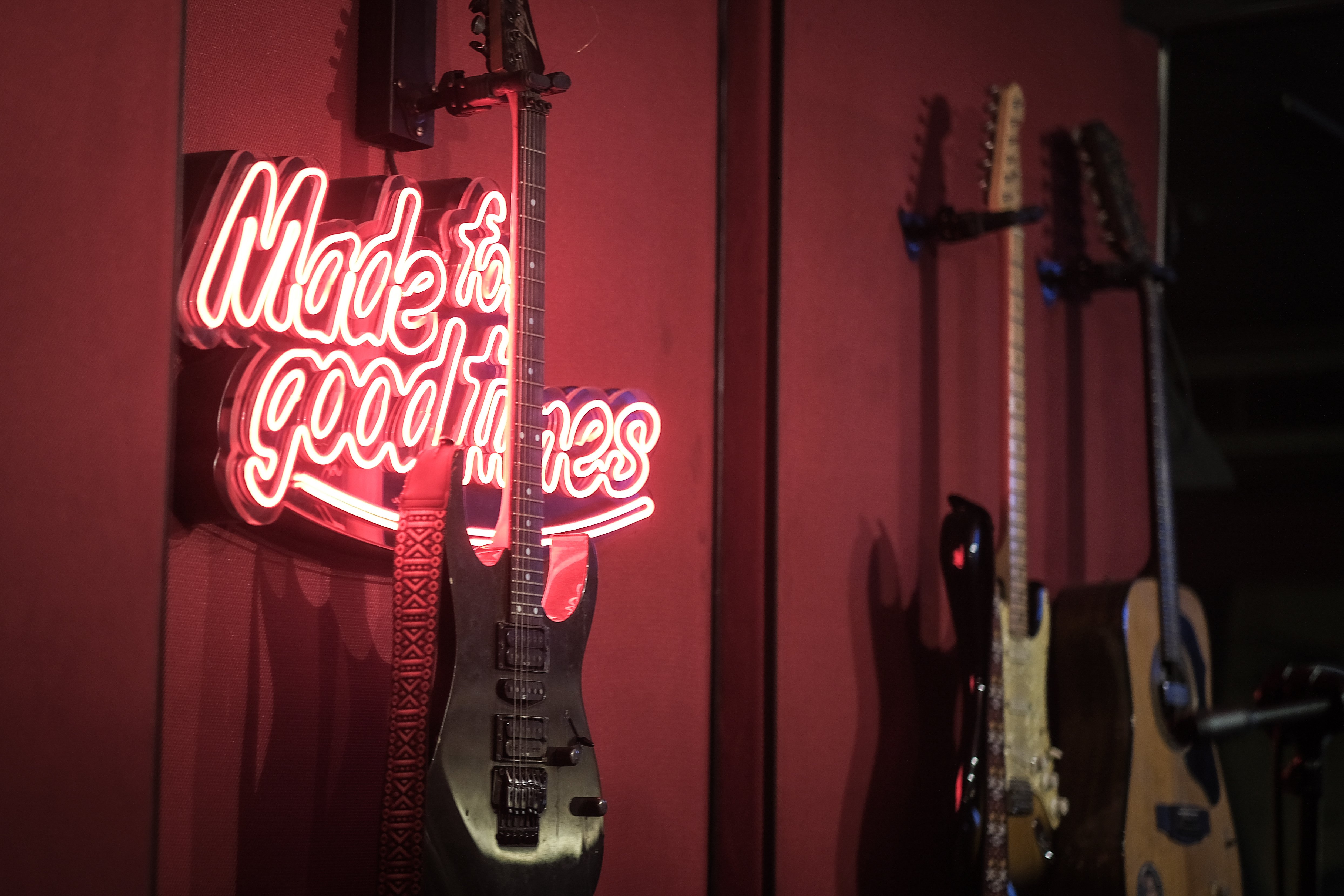 Le Quadrangle, the chief survivor of Lebanon's once thriving blues scene. (Photo source: João Sousa / L'Orient Today)
During difficult times
On February 14, 2005, the Quadrangle is expected to host 250 people on Valentine's Day. But that day, former Prime Minister Rafik Hariri and 21 other people were killed in an attack in downtown Beirut. Rizkallah said reservations at the Quadrangle were canceled that night and political tensions rocked the music scene.
But things soon balance out, as is often the case in Lebanon. Over the next few years, world-famous bands and musicians performed there, such as Lebanese-American blues musician Otis Grande, Lucky Peterson and Larry Correll, many of whom were musical guests of The Monday Blues Band.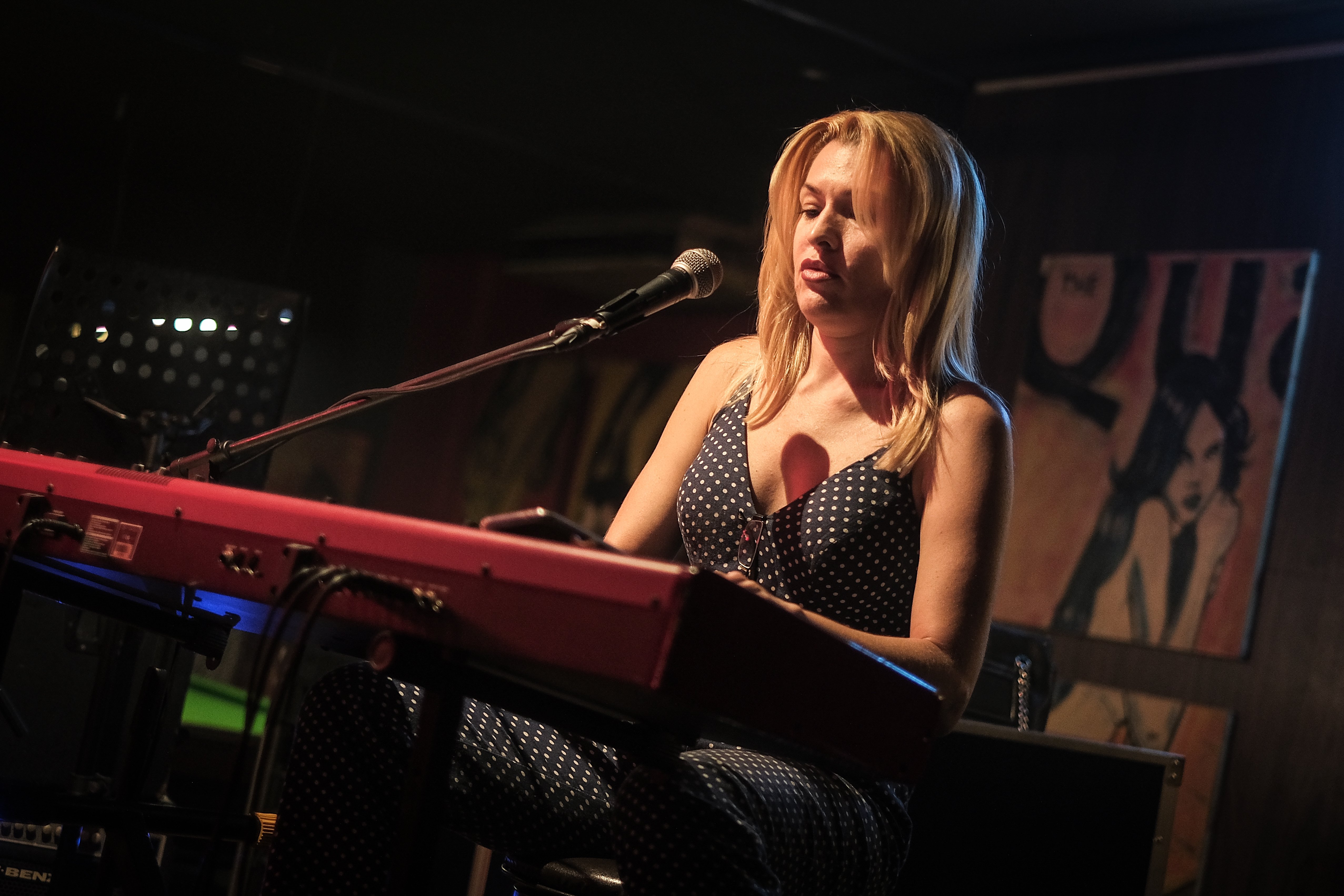 Blues player Anna Cudenova Matar performs at the Quadrangle Bar in Hazmieh, September 26, 2022 (João Sousa/L'Orient Today)
The group reached its climax when Nora Jumblatt – the wife of Progressive Socialist Party leader Walid Jumblatt – invited her to participate in the Beiteddine Festival in 2019. "I asked Mrs. Jumblatt if Eric Clapton was coming to Lebanon and I told her we wanted to open it… I couldn't believe it when she told me we were the band The main. Then the sound engineer told us that we tore everything up that day, "recalls Kamal Badaro.
Since the unprecedented economic crisis that began in October 2019, thousands of people have left Lebanon, including musicians. Fewer and fewer places host music events, and Quadrangle is one of them. "After the crisis, we experienced blackouts, bar supplies and many other things. Not everyone could pay for a drink at the bar anymore, although we tried to make the prices as affordable as possible," says Tony Rizkallah.
Quadrangle also had to start collecting royalties from bands, which it had never done before. "The venue has a responsibility to keep the music scene going for clients," says Rizkallah. It is an outlet for them, and they feel like they are traveling to another country, far from everything that is happening (in Lebanon). »
Monday Blues Band was also affected by the Covid-19 pandemic that hit their singer Victor Capabe in 2020. After this disappearance, Badaro discovered himself as a singer in the spotlight. "Before, I didn't (sing) in public because I was too shy, even if I did it in private," he says. But when Victor died, someone had to take over. »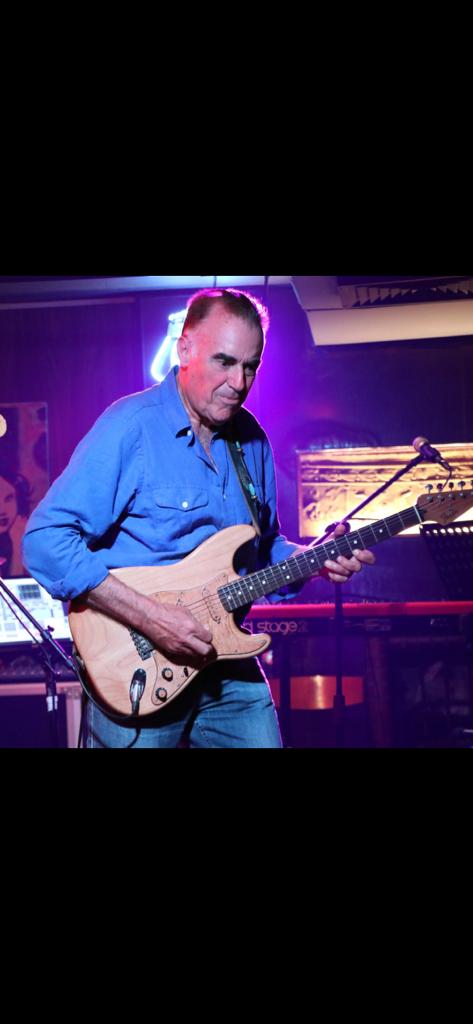 Kamal Badaro during a concert for Deir El-Qala Club on July 25, 2022. Photo by Monica Karam
If blues music was born in the specific context of the hardships of the black community in the United States, many of its Lebanese fans say it also "talked" to them after the tragedies the country has been through.
Nour Atoui says: "Pierre Issa was an inspiration to me, he told me that blues music is everything to him. He played during the civil war and throughout the conflicts in Lebanon until today. Issa and Badaro's dedication to music throughout these years, even though they both work full time "Kamel is elsewhere, he really excited me. I was inspired by Badaro's charisma and his humility on stage, and it's not really natural not to discover this talent. It's a pity he's from Lebanon, otherwise he'd have better luck."
At 67, Kamal Badaro is still brimming with inexhaustible blues energy. The multi-instrumental blues player performs at Quadrangle, a cozy bar in Hazmieh, south of Beirut, at least once a week, occasionally switching between guitar, piano and vocals during the same piece. Even when customers only drink at the bar, Kamal Badaro …

#Treat #blues #Monday #Quadrangle